Description
Not available for delivery outside local area
Description of the Basis Feeder
For economic optimal and physiologically correct free-choice mineral supplementation of grazing cattle and sheep
BasisFeeder protects expensive mineral supplements from rainwater and dung etc. by help of a rubber cover, which the animals push up with their heads when they eat.
The sloping outer walls ensure, together with a comfortable height that animals neither tips it around nor steps on it.
Easy to move and inexpensive to transport. Falls discreetly into the landscape.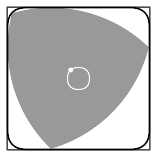 The special triangular form, reuleaux triangular inspired, with round corners makes the dimensions of the feeder small in comparison to its huge capacity of 66 litres volume, equal to a capacity about 140 kg granulated minerals, and is one of the reasons for a cheap price in comparison to other feeders.
A reuleaux triangle is a special geometrical form, and as visulaised here, the form provides for a higher volume than a circular form that shall fit into the same square.
Other information and facts
The top is a strong and reinforced rubber sheet, which the animals push up with their heads when they eat.
Holds three compartments of 17 litres, equivalent to, for example three times 40 kg free access mineral supplements, which provides the opportunity to use it for different mineral types at once.
Can for instance be used for both granulated minerals, buckets with molassed minerals, fodder salt and licks.
The three compartments are perfect as protection and fixation of mineral buckets with diameters of up to 30 cm (bottom).
The molassed minerals maintain in this way an appetizing moist surface.
One feeder serves up to about 50 animals.
The plastic parts of the feeder is made of non-toxic materials in accordance with EU's food hygiene regulations.
Height: 34 cm – Width: 80 cm – the rubber cover has a diameter of 96 cm. – Weight: 18 kg.
It is possible to re-use all parts of the BasisFeeder. The plastic parts are marked with a re-circulation sign for correct sorting.
The BasisFeeder is frost durable so it is possible to let it stand outside during winter.
The colours of the plastic of the BasisFeeder is protected by a UV filter in order to reduce bleaching.
The mineral feeder is well tested and applicable for the following types of livestock:
All types of grazing cattle and also those with horns
Grazing sheep